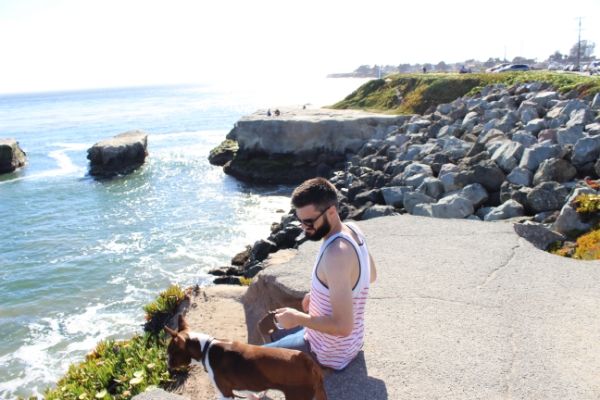 I should start by saying that a few months back Shuggie starting doing this really absurd thing when he wants me to play/pay attention to him. And the first time it happened, I assumed it was an accident and dismissed it as hilarious. But then he did it again a few weeks later. I'll tell him I'm done playing with him, turn around to let him know the fun is over, and then he'll push me. Not a joke.
He'll stand on his back legs, lift his front legs up, and then push me. Tyler died laughing the first time he was around to witness it. And it probably wouldn't be funny if we owned an Alaskan Malamute, but Shuggie will never be more than 30 pounds, so we let it slide.
Puppy parenting fail.
Fail because yesterday on the beach Shuggie pushed a kid (about the age of ten) on the beach. Pushed him right into the ocean. Luckily, the kid (fully clothed) thought it was absolutely hilarious, so this story has a happy ending. In fact a whole crowd gathered--this kid's parents included--to laugh and take pictures of Shuggie pushing him over and over, but REALLY. Having a dog that pushes can't be normal. And I know that because when I youtubed "boston terrier pushes person" NOTHING came up. Which tells me two things, for sure. One, Shuggie is ridiculous. And two, it's time for me to make a Youtube video.